The social responsibility initiative of the Hungarian Banking Association
Banks and financial institutions regularly provide a large number of banking donations as part of their social responsibility programmes. In 2020, the coronavirus epidemic posed new challenges to society. Charity activities have gained significance. The banking sector also went beyond its core business of maintaining and boosting the level of cash flow circulating in the economy. We launched our GOOD DEED BANK programme through sector-wide collaboration.
The pandemic affects health and education directly and significantly. The GOOD DEED Bank focuses on these two areas and develops bank donation schemes as part of the programme weeks:
The success of the initiative is ensured by a major banking partnership, to which many of our member institutions make a significant contribution. We will keep you informed of the results.
In the event series, the organizers focus on the precautions put in place due to the COVID pandemic, and ask contributing colleagues to comply with the rules.
BANKING BLOOD DONORS' WEEK
The first social service of the Good Deed Bank is the Banking Blood Donors' Week (October 12-16, 2020), which is organised with the participation of the Hungarian National Blood Transfusion Service and the Hungarian Red Cross.
Blood donation, i.e. giving blood is a very important issue that affects society. Due to the pandemic and the summer holidays, the national blood supply has dropped dramatically. The blood donation of bank managers and their staff means getting better, surviving and staying alive for patients.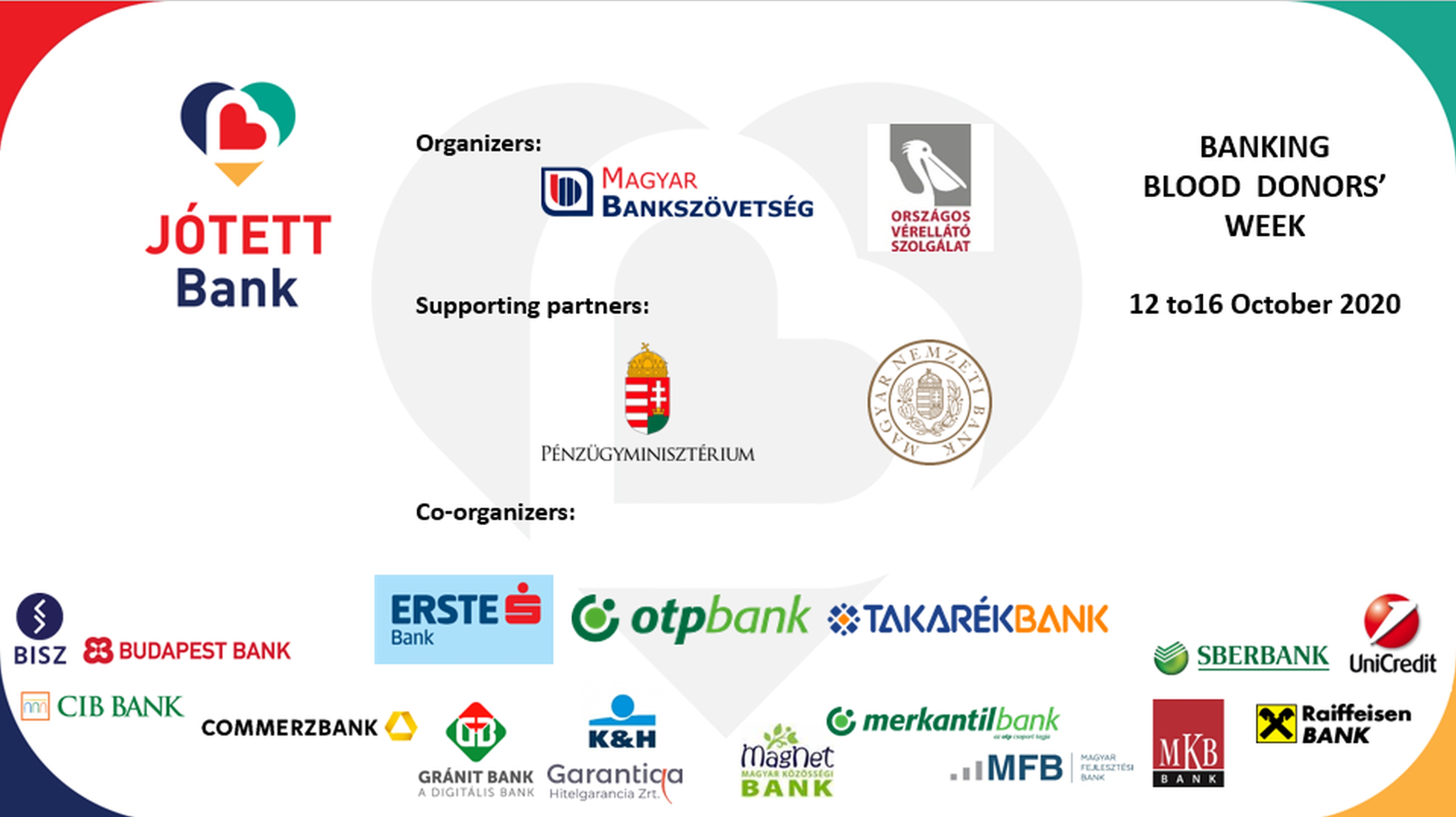 GOOD DEED Bank's educational donation programme aims to close the digital gap for schools and students in need.
The Digital Fast-Track Lane (November 2020 - January 2021) takes the form of hardware distribution donated by financial institution, harmonised with the various banking programmes.
In public education institutions, the digital working order was first introduced in the spring of 2020. In numerous schools, and not just in the countryside, wealthier families donated unused computers and smart devices, so that poorer students could also access online educational materials and attend classes.
It is this social phenomenon that banks are responding to in a positive way; by donating equipment used for accessing and processing educational materials.
"Legyen hozzá szimatod!" - informatív digitális csomag
A Magyar Bankszövetség fontos küldetésnek tartja, hogy a rendelkezésre bocsátott eszközök mellett a felhasználók digitális "otthonossága", kompetenciája is fejlődhessen. Ezért összeállítottunk egy informatív digitális csomagot, amely tartalmazza a PÉNZ7 fiataloknak készült, játékos, informatív digitális biztonság tananyag elérését is.
Az ismeretanyag az online térben felbukkanó veszélyekre, kockázatokra hívja fel a figyelmet, és ad tanácsokat azok megelőzésére (Pl.: adathalász levelek felismerése, biztonságos jelszóhasználat). A csomag IDE kattintva elérhető.